Bareboat Yacht Charters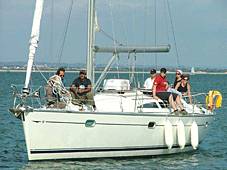 Bareboat yacht charters allows those with some sailing experience to plan their own itinerary and sail at their own pace while experiencing the wonders of a cruising area that they choose.

Sailing qualifications are helpful, but they don't always tell the whole story. Many sailors have a wealth of experience without certification of any sort.
So if you have no formal training it does not mean you can't skipper a bareboat yacht, but for the safety of all aboard, you must have experience of responsibility in sailing a yacht of a similar type, in the conditions you might expect, wherever you plan to charter. If you are in doubt, please discuss it with us.
Swan Yacht available for bareboat charters:
Sun Odyssey 40 Yachts available for bareboat charters:
---
Bareboat charter times / handovers
We offer a comprehensive hand-over service at Haslar Marina, Gosport and Falmouth Marina in Cornwall (other ports can be accommodated by arrangement). All boats are cleaned and set ready for the charter. You will be taken over the key features of the yacht, provided with an operations manual and the complete crew given a thorough review of safety procedures. The handovers for week and weekend sailing events are as below. However we accommodate flexible handover and return arrangements once we are made aware of your plans.
Weekends
Friday 18:00 - Sunday 17:00
Week
Friday 18:00 - Friday 10:00
---
Bareboat Charter Terms: (A)That the charterers shall have at least three years experience in command of vessels of a similar type and size.(B)That the Assured shall prior to the commencement of the charter receive and record the passport number and details of the driving licence number and details, or the identity card number and details of the charterer and his current home address. (C)That the payment for the charter and security deposit shall not be made in cash and the cheque or other instrument by which payment is made shall be cleared prior to the commencement of the charter and that the assured shall record details of the charterer's bank.Warranted all necessary and relevant licences and certification in force prior to any Charter. Policy Deductible hereon is doubled at all times whilst on Bareboat Charter
---