Corporate Team Building Sailing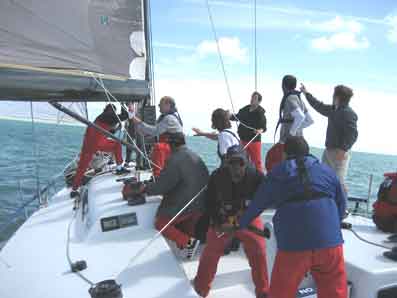 We see Corporate Team Building as a vital event for your company. In the next couple of years, the economic crunch will ensure that only the most motivated and united of workforces will secure the future of their businesses.
We provide team building sailing activities and sailing event Programmes tailored to suit your company's needs.
The corporate team building activities take place on our yachts which are licensed to take between 7 to 16 members on each.
Team Building Yachts

The yachts come with Professional Yacht Master skippers who will endeavour to teach their team the basics of sailing whilst working as a team including:
navigation
sail trimming
boat handling skills
how to work and communicate together whilst also providing team building games.

Individually, each team member benefits with improving:
decision making
communication
leadership skills
being part of a team
self confidence
the need to build a strong, competitive and winning spirit!
Our clients have told us that the teamwork and camaraderie developed during this day of fun and excitement directly carry over to the workplace with higher productivity and greater enthusiasm on the part of their employees.

Corporate team building days
Typical Team Building Sailing Day Event on

ONE

yacht

From 0930 hrs

Guests arrive at Swan Yacht Charter.Welcoming on board from the skipper.Tea, coffee, orange juice.

0945 hrs
Briefing on the day's programme, yacht familiarisation and Safety procedures.The issuing of Safety equipment and waterproof clothing if the weather dictates.
1000 hrs
Depart for morning sail of sail training including: learning points of sail, brief navigation and helming techniques.
1245 hrs

Arrive at a picturesque River, Bay or Harbour for a prepared luncheon.(Dependent on clients requirements)

1430 hrs

Introduction to Team Building with the emphasis on individual duties and the part they play in sailing/racing of the yacht efficiently. Allocation of individual duties such as helming, navigating and sail trimming.

1700 hrs
Return to marina for debriefing and photographs if requested.
1730 hrs
Guests depart at leisure

Please note that all timings are approximate and depend on weather conditions
Typical Teambuilding Sailing Day Event on

MULTIPLE

yachts

From 0930 hrs

Guests arrive at Swan Yacht Charter.Welcoming on board from the skippers.Tea, coffee, orange juice.

0945 hrs
Briefing on the day's programme, yacht familiarisation and Safety procedures.The issuing of Safety equipment and waterproof clothing if the weather dictates.
1000 hrs
Depart for morning sail of sail training including: learning points of sail, brief navigation and helming techniques.
1245 hrs

Arrive at a picturesque River, Bay or Harbour for a prepared luncheon. (Dependent on clients requirements)

1400 hrs

Introduction to Team Building with the emphasis on individual duties and the part they play in sailing/racing of the yacht efficiently. Allocation of individual duties such as helming, navigating and sail trimming.

1430 hrs
Fun race begins - Crews can put to the test their newly acquired skills.
1700 hrs
Return to Marina for photographs and prize giving if requested.
1730 hrs
Guests depart at leisure
---