Nautor's Swan 651 Kingfisher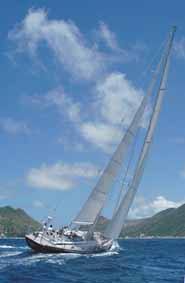 This beautifully-shaped, extended 65'1 Nautor's Swan will be your home away from home during your holidays, This is the last Nautor Swan 651, designed by the famous German Frers, that has been built. She is in excellent condition and has air-conditioned accommodation for 6 guests in 3 cabins. Her professional crew will look after you and your guests in an attentive and discreet manner.
A week aboard our Nautor's Swan 651
Life aboard Kingfisher is about fun! You will be amazed how easy life can be. Your day starts with a breakfast served by your chef, a swim, some water skiing, snorkeling at a nearby reef. Then plans for the next destination can be made,or you may choose to stay at this beautiful bay and have lunch at the beach restaurant. Read the books you always wanted to read or enjoy an afternoon nap. If you choose to go to another island you will enjoy the power of the wind, the waves and the ship cutting through them!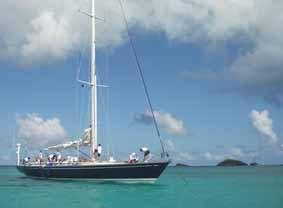 At the next destination the skipper will find a nice bay to anchor. Time for a swim or a visit to the shore and to get acquainted with the the local community, or do some shopping. If you decide to have dinner ashore, just give a call to the skipper and he will pick you up with the dinghy afterwards.You will be amazed how soon you will feel relaxed compared to traditional holiday hotel or resort. You may never go back to one!
The Kingfisher Cuisine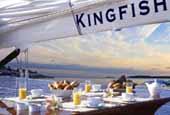 Both of the owners love good food and are passionate cooks. For them, it is a priority that anyone spending time on the Kingfisher can enjoy good and healthy food. Although Kingfisher is often limited to local food supplies, we are able to guarantee you a menu which will often be much better then the restaurants ashore! On the mediterranean see we can basically offer you with everything you and your quests like to eat.
This includes dietary requirements. In the Caribbean the cuisine is often simple but with a combination of fresh European import products we are able to serve your distinguished taste!
Price
One week: 14.000 euro Includes:
skipper Chef,
All food (on board),
wine and beers, (not liquor)
Water skiing,
snorkeling,
dingy etcetera, etcetera.
Please contact us now with your enquiry about Swan 651 Kingfisher