Nautors Swan 43 - Espalmador
South of France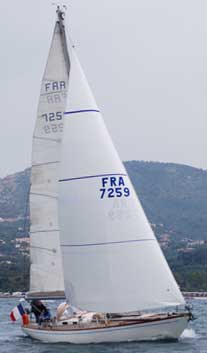 Swan Now for sale
Nautors Swan 43 - Espalmador. This Swan Yacht is available for skippered or bareboat charter in the the South of France at Port Grimaud - St Tropez.
She is a beautiful example of a Nautor's Swan 43 designed by Sparkman & Stephens. She is fast cruiser with dacron sails and has just completed an above deck refit.
If you are interested in sailing and in warm waters then you will come back for more if you sail on "Espalmador."
Return flights to Nice are often less than £100 pounds and with a transfer time to the yacht of just over an hour you will find your self in some of the best cruising the Mediterranean has to offer.
Map of Port Grimaud next to St Tropez
---
Swan Yacht Charter is an independent company that is in no way connected to
Nautor's Swan, the Nautor Group or their agents. Please visit www.nautorgroup.com
for full information concerning them.
---